Capt. Hedley "Het" Hillier
"Ten minutes is long enough for anyone to be strangers, after that, there is no good reason not to be friends"
Captain Hillier (nick named Het) was the son of James Hillier (b. Dec. 1867 @ Griquet) and Noah
(b. 1876 @ Hance Hr. ?). James mother was Mariah Hillier (b. Jan 1847 at Hearts Ease, TB). Cannot
find records of his father. Het had two brothers Clements (b. November 1902 @ Griquet) and Tobias
(b. January 1905 @ Griquet).
He was married to Pearl Pilgrim ( daughter of John Pilgrim, b. 1916 @ Griquet, d. July 03, 1978).
They had ten children :
Alan
Roland
Louise
Dorothy
John
Ada
Vida
Kay
Nita
Graham
Captain Hedley Hillier made it his life to serve the people in White Bay district, the Straits of Belle Isle and the Southern Labrador coast of Newfoundland and Labrador. He was their salt dealer, shipping company, ferry service, mail man and ambulance.
At the age of 14-years, he owned a small motor boat with which he used to deliver salt to the Straits of Belle Isle and Southern Labrador fishermen. From this humble beginnings he eventually became the owner of four Schooners and as his sons grew older, they became his crew. In his 35 years upon the Atlantic Ocean, he saw the demise of four schooners.
1. Annie Murphy -constructed at Placentia, PB, Nfld in 1912. She had one deck and two masts. Powered by a 16 horse power engine and fitted with sails.
Her length was 40 ft., with 11 ft., and a dept of 6 ft. Gross tonnage was 13.
2. Alice M -constructed at Pubnico, Nova Scotia in 1904. She had one deck and two masts. Powered by fuel and sails. She was 52 ft in length, 16 ft. wide and a dept of 7 ft., her gross tonnage was 31. She was lost at sea in 1952.
3. Dorothy George Simpson
-constructed at New Harbour, Trinity Bay, Nfld in 1935. One deck and two masts. Powered by fuel. She was 63 ft. in length, 19 ft. wide and a dept of 8 ft. Her registered gross tonnage was 44.
4. Gull Pond.
-constructed at Port Union, Trinity Bay, Nfld in 1923. One deck and two mast. Originally powered by sail, but later had her jib shortened and powered by fuel. Her length was 72 ft., width 22 ft. and a dept of 8 ft. Her registered tonnage was 65. The vessel went to the bottom, in 20 minutes, under a load of sand. Wilson Quinton who was the cook at that time, came up the steps from the fo'castle, when he looked down, behind him, all he saw was water; only the deck was a float.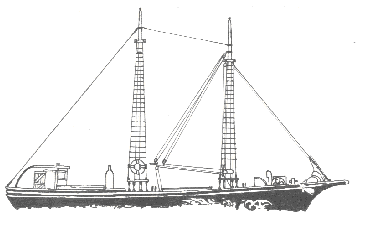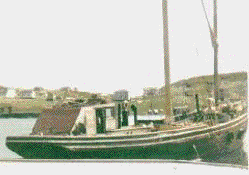 Gull Pond @ Griquet- 19--
Sketch by Wm.T. Quinton~Bartlett 2002
Captain Hillier was not only the master of motor boat and schooners but also master of dog team and Bombardier snow mobile. When the Arctic winds blew the cold and snow upon the Great Northern Peninsula of Newfoundland, and the Labrador current transported Arctic Ice to fill up its bays and blocking the Straits of Belle Isle, Het took to his dog-teams and komatick sled. At the age of 24 he was very proficient in the use's of dogs and sled; for it was the only means of
transportation across the snow covered land and frozen pond's and bay's. Sir Wilfred Grenfell of the International Grenfell Association (IGA) had employed him to transport freight in the summer and staff in the winter.
Doctor and nurses of the IGA were constantly on the move between various hospitals, nursing stations and, on emergencies. It was the dog-team and its driver, whose experience and training, brought them through incredible difficulties, with uncanny instinct. Het, also spent a lot of lonely nights out in the storms of winter. I have heard him relate many of the stories, Once he was taking a corpse through the hills and a storm came up. He dug a hole into the snow and pulled the corpse in it, with him. He was afraid that the dogs would eat the body.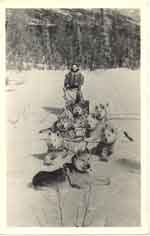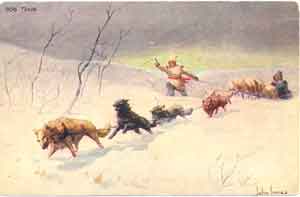 Het had been a resident of Englee for 14 years and noted that he had brought the first patient from Harbour Deep via dogteam, to St. Anthony. Quite a distance.
Elsie Penny, a midwife and caregiver, on the Southern Labrador, was quite use to dog-teams and my mother has told me that Mrs. Penny delivered her first child Hope Quinton ( called after Port Hope Simpson, Labrador, She was the first baby recorded to be born there.), who was born in 1938.
Elsie Penny (photo 1977-THEM DAYS magazine)
Lost in a storm
by Elsie Penny
Researched by Dr. Doris Saunders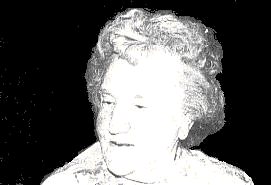 Them Days magazine.
One time, when we lived in Port Hope Simpson and my parents were living in Mary's Harbour, dad was sick. One night some boys came into our place and they were talking about that they were going to Battle Harbour to get dogs' feed. We knew them, eh.
Mark said to me, "My, Elsie, it'd be some nice for you to go and see your father now."
So I said, "Wes, will you take me with you?"
He said, "Yes."
"How many dog's have you got?" I asked him.
He said, "I only got five."
"That's not many dogs to go to Mary's Harbour." I said.
That's quite a distance, almost thirty miles, I suppose or more.
"Well," he said, "Et (Het) Hillier is going out, too, tomorrow. I'll pick you up tomorrow morning."
The next morning Wes came to the door about nine o'clock.
" Where's Et?" I asked, " he's still goin' too?"
"Yes." he said.
So we started off. It was a lovely morning. We went over the 'neck' and went out to Lewis' Bay and we went into a house there. By the time we were ready to leave there, Et Hillier had arrived so we all took off together. When we were going down Lewis' Bay a storm came on and what a storm it was.
Now, the boys had never been to Battle Harbour before, neither one of them.
I was on one team, and the leader of the team behind us was right up to the box where I was sitting and I couldn't see the man on that team. I was on with Et Hillier because he had a big team.
He said, " Mrs. Penny, if you weren't on with me I'd know what I'd do."
I said, " what would you do Et?"
He said, " I'd make for the woods."
I said, "Why not with me? I can go through the woods too."
He said, "I'd rather you than Pearl." That was his wife.
So we went in, into the woods and built a snow house, dug down and built a snow house, and then we did it all around with bows and woods. I got most of the willows for the men while they were digging the place out. We got in there and built a shelf and put our sleeping bags, our coats and things on it. We sat there all night with the fire on. Oh, my dear' that was some stormy night.
The next morning it wasn't much better. The boy's were a bit nervous because they didn' know anything about the bay.
I said, "Let's go on down a bit further down the bay," because I knew every little place down the bay. We went down, but we couldn't go out because it was too stormy. We went to another place and we stayed there and boiled the kettle and had a mug-up. By that time it had cleared up a little, so we left and went out on the bay. It was safe in the middle of the bay.
Et said," I'm afraid to go too far, afraid it might be broke up because with a storm like this there's a sea."
"Well," I said, "A sea will never come in no farther than Mary's Harbour Head, never did. When you goes down in that little place you'll see an island down there with a bough on it, that's Ship's Harbour Island. If it's kind of stormy we'll pull into a little place called Daddy's Island Steady and from that I'll walk." I knew the trail from there, you know.
They didn't like to depend on me because I was a woman. Anyway, we went in and struck a path, the main path and after awhile we broke out by the Mary's Harbour hospital, that's where we came out.
It was about half past three in the afternoon when I got to mother's and opened the door.
Mother said, "Elsie, where did you come from? You looks like somebody that was out all night."
I said, "yes, Mom, we were out all night."
And she said, "That's going to be the end of you. You're going to be lost yet."
I said, " I wouldn't have come only I come to see how Dad was, you know."
Wm. T. Quinton/Bartlett-2002
Alan Hillier [Het's son]
Northern P Them days Magazine
Vol 3 #1
Tel: 709 896 8531
Fax: 709 896 4970
E-mail: themdays@hagb.net
THEM DAYS: Archives and Publications

INDEX