(1887-1978)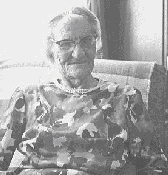 Sarah Ann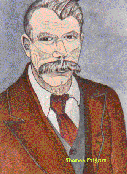 Thomas Pilgrim
The Decendants of Charles Pynn
The Grandfather of Fredrick
http://www.angelfire.com/nf/payn
Thanks to Tammy Hammond

daughter of
Sarah Ann Pilgrim was born to Frederick Pynn and Sarah Patey on October 29,
1885 at Quirpon, Newfoundland. She had twenty sisters and brothers:
Eleven Stepsisters and brothers:
1. Adelaide
2. James
3. Harriet
4. Albert
5. Catherine
6 Josephine
7. Henry William
8 Alfredia
9. Melissa
10. Josiah
11. Frederick
Full brothers and sisters:
12. John Emmanuel
13. Patience
14. William Henry
15. Melvina
16. Sarah Ann
17. Amelia Louise
18. Elizabeth
19. Charles
20. Leslie Joseph
She began working at age eight years old, going out in a boat to fishing with her father.
Grande,( as my generation called her), enjoyed being around her older step- brother Billy Pynn and would work with him at the fish as a share person. She would get paid by others, to spread their salt fish on the flake and ' land-wash' to dry in the sun.
It was required by the father, Frederick, that on Sundays every member of his family follow him to the Church of England, down at the Tickle (lower Quirpon), where he was a Lay-preacher.
When Sarah Ann was at age 12 years old she went to live and work as a servant at the light keeper's house in Cooks Harbor.
The following are excerpts from Sarah Ann Pilgrims life story in her own words, as published by DECKS AWASH in 1978.
" I was married 70 years ago to Thomas Pilgrim of Griquet. I had seven children, three girls [Gladys 1908, Winnie 1910 and Erma (Minnie) 1916], four boys [Ambrose 1913, James 1915, Lenoard 1920 and Ralph 1922]...One of my sons and his wife had 15 children, and I delivered most of those. I also delivered some of my daughters children.
I had a good life in Quirpon when I was a teenager . Every Sunday morning we would go to church with our daddy . We use to go dancing some nights and some nights we would go to prayers. We use to have an old - fashioned square dance called the eight handed reel. The Americans use to dance to that one. Also there was the six handed reel. My father was an Englishman. He came from Harbour Grace to Quirpon to get married. I went fishing with my father for six or seven years. We use to fish Cod with a jigger and a trawl...I liked fishing, but it was 'tire - some'.
Some mornings we would get up, with the stars in the sky. We use to get lots of Salmon, when
fishing. The Americans use to come for the salmon then".
During Grandmothers adolescence, France still utilised fishing grounds around the Great Northern Peninsula. In later years Grande still possed vivid memories of French fishermen and their activities on the coasts...even of their appearance and diet.
"Frenchmen were around when I was a girl and I was afraid of them, because they were so ugly and use to fight among themselves. They didn't have any women with them. They would come from France in the spring and leave in the fall. They had their own ship. They use to wear wooden boots [ Its possible that she mistaken the Dutch people that frequent the harbour, for French- Bartlett].I Remember that they use to use sculpin in their soup. I use to eat that also."
Grande also reflected on married life and how it was filled with hard work - necessary then for survival.
"After I got married I use to work in the gardens and 'lug' fish back and forth from the shed and stage to spread on the flakes and beaches, to dry. We worked like dogs. We use to also pick berries, and I use to spin wool and hook mats. I spun hundreds of pounds of wool."
The Salvation Army arrived at Griquet in 1914 and James Pilgrim ( Sarah Ann's father -in -law) was the first Salvation Army family. It was (Aunt) Grace Quinton/Smith who introduced the 'Army' to Griquet.Grandmothers daughter Erma (Minnie) was the first baby to be baptised in the new barracks, in 1916.Grande was 'very much' into the Salvation Army.
Grande stated to me that she figured she delivered over 1500 babies in the area.
"That's the ones they know about" she told her inquisitive grandson.
This story is a continuum and I'm hunting for grand, great-grand and grear-greatgrandchildren
Wm. T. Quinton~Bartlett 2002
Thanks to:
Tammy Payne Hammond Family History, Newfoundland.
www.angelfire.com/nf/paynetree/pynn/html

Griquet ~ St. Lunaire

CONTACT